Print Design Services
If you need a full-service media company that offers media buying and print design, Ottaway Communications is here for you. We are your one-stop shop for all your print design and media buying needs.
In a world filled with an overwhelming amount of content to process, it can be challenging to make your design stand out. However, with over 30 years of experience, we are well-equipped to make your print design shine amongst all the other competing content.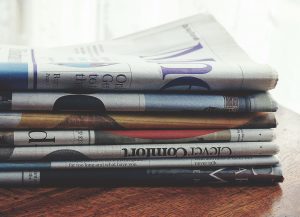 What We Do
When it comes to print advertising, the design and print must be high quality. At Ottaway Communications, quality and customer service are our top priorities. We aim to provide you with the best full-service media design and buying process there is.
Media Buying is done on three leading platforms: television, radio, and print. Besides print media buying and design, we offer a plethora of other services, including:
Television Ads

Media Buying: With nearly 35 years of experience, Ottaway Communications offers expertise in all three categories of television ads: broadcast, cable, and OTT. We will handle all negotiations with the media outlets to get you the most bang for your buck.
Copywriting and Production: We are a full-service media company, meaning we can buy your ad spots and create your ads for you too! When you choose to partner with Ottaway Communications, you do not have to worry about the creative side of advertising either because we will write the script, film, and edit your commercial for you.

Radio Ads

Media Buying: Whether you want the radio host or DJ to read your ad or you want to prerecord it, we will get you the best spot for the best price possible to generate more leads.
Radio Copywriting: Our expert copywriters are here to write you the best commercial possible. Whether you are looking for a 30-second or 60-second ad, we will deliver an exceptional, compelling radio ad.

Graphic Design: Hiring a graphic designer can be extremely expensive. Ottaway Communications is a full-service media buying agency because we can handle every aspect of an ad, from creation to the ad buy itself to the analytics report.
Outdoor Advertising: Whether you are looking to rent out a billboard or an outdoor banner, Ottaway Digital has the expertise to maximize the number of leads your outdoor advertisement will bring in.
The Print Design Process
Here at Ottaway Digital, we make the print design process completely stress-free for you. We break down the print design process into four steps: brief, creation, feedback, and final artwork.
Brief: As the client, you will create a brief of what you want your ad to say, who you want to target, and what you want it to look like. Then, we will discuss the brief with you to clarify any ambiguities before we both sign off on the brief.
Creation: As arguably the longest part of the process, creation is where we bring the creative brief to life. Our design and copywriting teams work together to produce a few drafts we present to you.
Feedback: After you receive the drafts, you can give us your feedback on what you like and don't like and what you want to change in the ad.
Final Product: Once you are pleased with the changes, we have a final product ready for the media outlets and printers.
Types of Print Ads
A print ad is a physically printed advertisement, whether that is in a magazine, newspaper, brochure, direct mail, or even a billboard. Choosing the right print media type based on the type of ad you want to create and your target audience is essential to the ad's success rate. For your convenience, here are the pros and cons of each different type of print advertisement: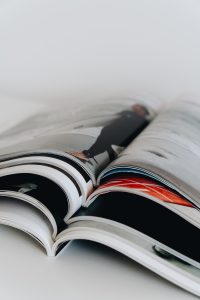 Magazine Ad: You can target a specific audience with a magazine ad as there are various types of magazines to choose from in categories like health, fashion and beauty, pop culture, interior design, etc. Magazine ads can also be very affordable. Depending on different factors and the specific magazine you choose, these ads can range anywhere from a few dollars to thousands of dollars.
Newspaper Ad: The newspaper is known as "the king of advertising" and is still popular today, even in the age of digitalization. Newspaper ads are very effective for local and small businesses as they can reach a greater local audience. You can also reach a specific targeted audience by placing your ad in a particular newspaper section.
Brochures: This is arguably the best way to give out information about your business. You have a lot of freedom with both the design and layout to drive home your brand voice and message.
Direct Mail: This is an excellent option if you value personalization in your ad and target audience, as you are targeting who you want your potential or recurring customers to be. In terms of design and copy, it is entirely up to you what you want your direct mail to look like.
Billboards: If you are looking for a type of advertising that your audience cannot ignore, a billboard is what you are looking for. Billboards allow you to exponentially increase your brand awareness, depending on where you place it and what you specifically advertise. This is also a great option if you are looking to target a specific location in terms of target audience.
Get Your Free Consultation and Estimate Today
With nearly 35 years of experience, Ottaway Communications is your one-stop shop for all your traditional media buying and creation needs. We can even design your business cards for you.
As a team of knowledgeable media experts, we will make your print design process as seamless and stress-free as possible for you. If you need a print design that will generate leads for you, look no further than Ottaway Communications. Get started today with your free consultation by filling out our online form or giving us a call at (248) 637-4600.